The Short Sunderland
The Sunderland was a military flying boat, designed in parallel to the civilian Empire Flying Boats that pioneered long distance travel to India and South Africa - linking Britain to its Empire. The Sunderland design also formed the basis of a whole family of large flying boats - an explanation of the various types is here
The primary function of the aircraft was maritime reconnaisance, which included their use as an anti-submarine weapon with Coastal Command. They were also used as transport aircraft and even served during the Berlin Airlift.
The first Sunderlands were built at the Seaplane Works in Rochester but expansion of production included disperal to other locations with new lines at Belfast and Windermere as well at Blackburn aircraft's works at Dumbarton on the Clyde.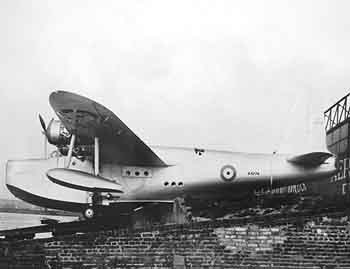 The Sunderland was ordered in 1933 to specification R2/33. The prototype K4774 first flew in October 1937. By the time the Windermere factory was ready to start production, the design had advanced to the MK III, using Bristol Pegasus XVIII radial engines. The plans to introduce a Mk IV was cut short with only eight built by the new idea of refitting earlier aircraft with the American Pratt and Whitney engines which were not only more powerful but more reliable. The Mk IV had a noticably difference airframe but, since the Mk V used the same airframe, 88 earlier models were refurbished to the new specification, as well as 154 new built.
During the war the Sunderland's main role was convoy protection during the Battle of the Atlantic and also off West Africa and over the Indian Ocean. Postwar they continued in use with the RAF at home and overseas, particularly in the Far East. They also saw service in the air forces of France, Norway, South Africa, Australia and the Royal New Zealand Air Force which ordered a fleet of 16 as late as 1952 - they were all refurbished from former RAF aircraft.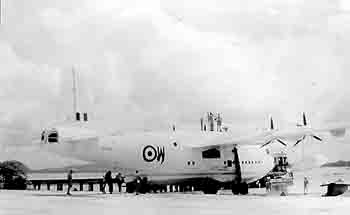 The last RAF Sunderland sortie was carried out in 1959 by ML797 and Windermere-built DP198. The final RAF Sunderland flight was a few days later by ML797 alone.By the mid 1960s the Sunderland was finally out of service although one preserved example, converted to a passenger carrying layout, former ML814, remains potentially airworthy - although it is not currently flying, .
Production numbers:
| | |
| --- | --- |
| Factory | Number of Aircraft |
| Rochester | 331 |
| Dumbarton | 250 |
| Belfast | 133 |
| Windermere | 35 |
| TOTAL | 749 |
Sunderland Specifications
| | | | | | | |
| --- | --- | --- | --- | --- | --- | --- |
| | Mk I | Mk II | Mk III | Mk IV (Seaford) | Mk V | Sandringham |
| Wingspan | 112' 8" | 112' 8" | 112' 9.5" | 112' 9.5" | 112' 9.5" | 112' 9.5" |
| Length | 85' 8" | | 85' 4" | 88' 6" | 85' 3.5" | 86' 3" |
| Height | 32' 10.5" | 31' 10.5" | 32' 10.5" | 34' 3.25" | 32' 10.5" | 32' 10.5" |
| Weight - empty | 28 290 lb | 33 000 lb | 34 500 lb | - | 37 000 lb | - |
| Weight - Max take off | 45 700 lb | 58 000 lb | 58 000 lb | - | 60 000 lb | - |
| Weight (AUW) | - | - | - | 75 000 lb | - | 56-60 000 lb |
| Max Speed | 210 mph | 205 mph | 210 mph | 242 mph | 213 mph | 206 - 238 mph |
| Range | 2 800 nm | | | 2800 | 2 980 nm | 2 400 nm |
| Engine Type | Pegasus XXII | Pegasus XVIII | Pegasus XVIII | Hercules 130 | P&W R 1830 | Pegasus 38 or P&W R1830 |
| Engine Power | 1100 | 965 | 965 | | | |
| | | | | | | |