Visiting Aircraft
In addition to the 35 aircraft built at Windermere, there were about 25 which were repaired at the factory or converted from MKIII to the newer MKV standard.
It has not been possible to identify all of those aircraft but the ones known about are listed below.

Aircraft were classified by the squadrons according to the amount of work needed to bring them back into service. Cat A damage was usually repaired at the unit's base while Cat B aircraft were returned for a repair in the works.
From 1944 Windermere specialised in Cat B repair work.
From 1945 the work moved on to fully refurbishing old MKIII airframes to the MKV standard. The aircraft were fully stripped out and refitted. The most obvious difference was the change from Bristol Pegasus engines to the Pratt and Whitney engines.
Repaired in works (so far identified):
W4024; W4037; DD834; DD841; DD860; DD866; DV964; ML872.
Converted from Mk III to Mk V:
ML821; ML877; NJ176; NJ191; PP137.

In addition it is known that five aircraft were broken up for scrap at Windermere after being declared beyond economic repair. Seven aircraft at Windermere waiting for work at the end of the war were cancelled but all were removed to other factory sites.

If you know of any aircraft which came to Windermere for any reason and have evidence such as photographs, crew log book entry or squadron record entry, then please drop us a line so we can get closer to completing this area of the research. (Click here for e-mail)
The Short Shetland prototype.
A special visitor to Windermere in January 1945 was the Short Shetland prototype DX166. The planned sucessor to the Sunderland, the hangar at Windermere was the only one large enough for the construction of the aircraft. Production would either have taken place at Windermere or, possibly the hanager would have been moved back to Rochester.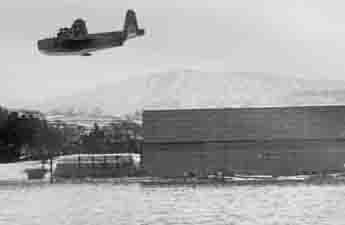 The prototype was built at Rochester but, without a hangar large enough, the final fitting out - incuding fitting the tail, had to be done outside. It was then not possible to get the aircraft back into the hangar to the weighbridge. So, she was flown to Windermere by test pilot John Lankester Parker for weighing and the essential centre of gravity calculations.